Craig James Reportedly Out at Fox Sports Southwest After Single Appearance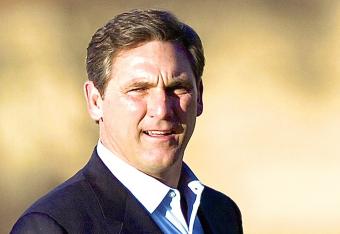 James, who left ESPN in late 2011 to run for a then-vacant U.S. Senate seat in Texas, was recently hired by Fox Sports Southwest as a college football analyst. The regional network's Twitter account welcomed him to their family on Friday:
Per Deitsch's report, executives were not happy with the hiring of the former NFL pro, as "the hire had not been fully vetted at the highest levels of Fox Sports management."  "Craig James will not be making any further appearances on Fox Sports Southwest's football coverage this season," said a Fox Sports spokesman, via Deitsch. Though the exact motivations behind the dismissal are not known, it is reasonable to assume it is an attempt by the network executives to nip things in the bud and distance themselves from a controversial figure.
Once a mainstay on ESPN's college football programs and game-day coverage, James started to lose popularity with fans right around the time his son, Adam James (a former member of the Texas Tech football squad), was unceremoniously involved in a scandal that ultimately resulted in the firing of Mike Leach as Texas Tech head coach. Leach lost a lawsuit he filed against ESPN and Craig James earlier this year, in which Leach accused the network, PR firm Spaeth Communications and James of libel and slander related to the way in which he handled Adam's concussion.  
As reported by David Barron of the Houston Chronicle, James was being brought into the Fox Sports Southwest fold to take part in a Saturday night postgame college football show and its Big 12 Live program.  FS Southwest executive producer Mike Anastassiou had high praise for James when the move was announced. "His knowledge of college football and the experience he brings as an analyst will be a tremendous asset to our coverage," Anastassiou said in a statement, per the Chronicle.

Lous laws : A bucket of piss will need to be dumped because it stinks...